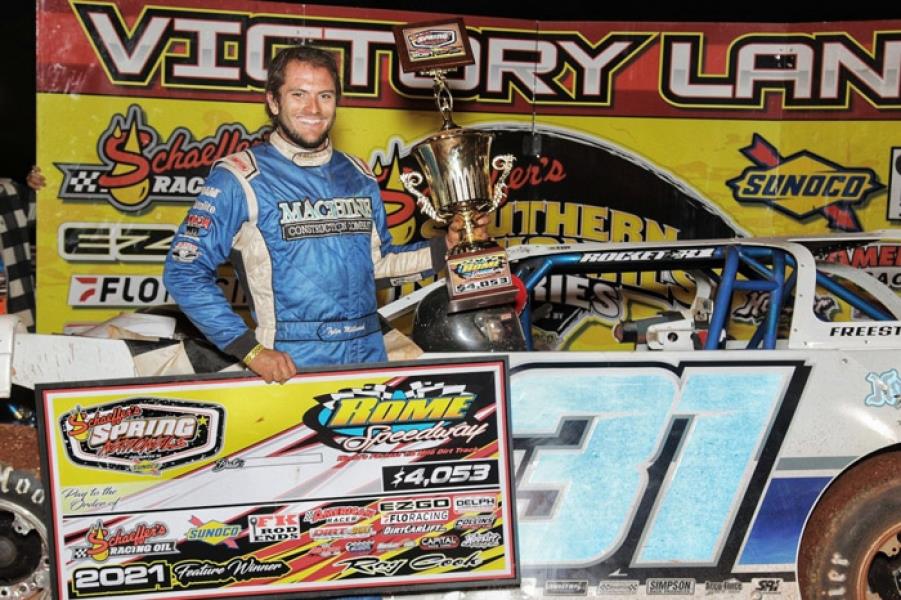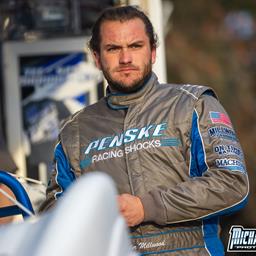 ---
Millwood tops Spring Nationals foes at Rome
Tyler Millwood accomplished another first on Sunday evening. Racing in his home state, the Georgian took his Millwood Plumbing No. 31 XR1 Rocket Chassis/ Durham Racing Engine Super Late Model to Victory Lane for the first time in his career with the Schaeffer's Oil Spring Nationals. (Kevin Prater photo)
The maiden voyage to Victory Lane with the Ray Cook-promoted tour was worth $4,053 and came at Rome Speedway, and marked his second overall triumph of the season.
"I feel like we've come a long with our program in the past year. Tonight, some of the front runners had bad luck, and that no doubt helped us get the lead, but we put ourselves in a position to capitalize on these opportunities. It means a lot to our team to get our first Spring Nationals against such a talented field," Millwood said. "We're currently planning to head to Eldora in two weeks for the double Dream events, and I couldn't be more excited. A big thank you is dedicated to everyone, who supports our program."
Tyler Millwood kicked off his Memorial Day weekend racing excursion on Saturday evening at Dixie Speedway (Woodstock, Ga.), where he was piloting his Machine Construction Company No. 31 Late Model in the Schaeffer's Oil Spring Nationals event. With his third-fastest qualifying time locking him into the sixth-starting position for the opening night feature, Millwood was running in the top-10 when a bent wheel caused extreme vibration. He was forced to retire from the event on lap 26.
The following night at Rome Speedway (Rome, Ga.), Tyler laid down the second-fastest time in his qualifying group behind Austin Horton, which positioned him fourth on the starting grid for the A-Main. Sliding into the lead on lap 29 after pacesetter Austin Horton ran into mechanical issues, Millwood charged to his second win of the season, which came over Donald McIntosh, Jason Croft, Randy Weaver, and Dale McDowell. He earned $4,053.
Back to News