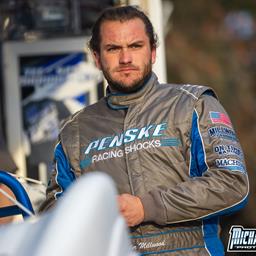 ---
Millwood attends DTWC at Portsmouth
Friday night found Tyler Millwood in action at Portsmouth Raceway Park (Portsmouth, Ohio) for the 40th annual General Tire Dirt Track World Championship. With a stout field of 63 Lucas Oil Late Model Dirt Series (LOLMDS) entries on hand, Tyler laid down the eighth fastest time in his qualifying group before placing seventh in his heat race.
Transferring into the B-Main on Saturday night for one last shot at the $100,000-to-win Dirt Track World Championship, Millwood suffered a flat tire that dropped him back to a 11th. He ended up scratching from the Jim Dunn Memorial non-qualifiers feature for a shot at a $3,000 payday. (Heath Lawson photo)
For more information from this event, please visit www.LucasDirt.com.
Back to News